Semalam hujan sepanjang hari kat Melbourne. Ikutkan hati, mmg lah malas nk keluar, baik tidur je kt rumah, dengan hujan renyai2 kt luar, pekena plak kopi panas or hot choc. peh~ mantap gile kot. tapi, itu angan2 mat jenin je la kan. disebabkan fyp xsiap lagi and nx week da nk kene present, nk xnk, kene la g uni jugak. sbb xde tiket tram and xbrani naik tram scr 'haram', so aku pon bejalan lah dr umah ke uni, which takes me about 20-25 mins gak la. tahla, dah slalu jalan dr rumah-uni, so xde la rs 20-25min tu lame sgt kot. ok, back to the story, dlm hujan renyai2 tu, aku bejalan la ke uni..
...
after seharian kt uni, petang tu of coz la nk balik kan. so, aku pon jalan la balik.. and still hujan gak time balik tu. then, ms nk cross jalan, kt traffic light, tgh2 hujan renyai2 tu, aku ternampak duit 5 dolar kt tepi2 air hujan yg mengalir kt tepi longkang. then aku tgk kiri kanan xde org, so aku amik la duit tu kan. *well, I dont think I am considered as stealing, am I?* sebabkan duit oz ni made of plastic, so xde la koyak duit tu, even da basah lencun mase tu. I was like.. happy jugak la, sbb xsangka rezeki jumpe duit 5 dolar kan. hehe.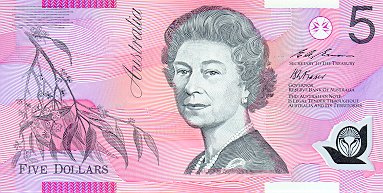 Tapi, tgh2 jalan tu, tetibe some bad thoughts cross my mind. aku cm ade la terpk, 'kan best kalau aku jumpe 50 dolar instead of 5 dolar.. pastu aku cm xpuas ati.. apsal aku jumpe 5 dolar je..xbest betul..' cmtu la lebih kurang aku pk mase tu. then aku cm tersedar, ee..xbaik aku pk cmtu, tu kire da untung la aku jumpe 5 dolar, ade gak 5 dolar kan, drp xjumpe lansung, better la 5 dolar isnt it? tah2, if aku jumpe 50dolar, aku nk 100dolar plak kan? isk3.. jahat tol bad thought ni.. then after tu, aku cm tersedar la,aku xpatut ade bad thought cm tu..and I feel bad la sbb xbersyukur dgn 5 dolar yg aku jumpe memule tu...
mm.. after a while, aku terpk, mmg byk sbnrnye dlm life ni, kita take things for granted and kdg2 kita xsedar, small2 things yang kita slalu xbersyukur.. yelah, kadang2 Allah da bagi the best utk kita, tp kita nk lg lebih, tanpa sedar yg ramai lg org lain yg xdapat pon benda yg kita dpt tu... contoh paling senang mcm freedom.. kita xpenah sedar yang freedom yg kita ade skg adalah nikmat yg paling beeeesar Allah bg pada kita. kita bole pg uni, boleh tgk muvi, makan mcd, pg kelas, main fb, update blog, bc blog org, stalk org, buat fyp, and byk lg la. kalau tgk org2 kt penjara tu, freedom diorang mmg boleh kata zero. duduk dlm pintu besi tu, kawasan terkurung, nk layan fb?jgn harap la. nk update blog?mn nk cr internet connection? sume bende limited. mmm.. itulah, what I am trying to say here is, sentiasa bersyukur dgn apa yg kita ada.. sometimes kita rasa we deserve better, tp, think back dgn apa yg kita ada slame ni, xcukup ke?
Well, actually just nk share cerita 5 dolar tu je td. hehe.